WHAT IS RAISED FOUNDATION REPAIR?
Raised Foundation Repair offers professional, affordable, simplified foundation repair for San Diego County. Our highly trained team of installers is able to efficiently take care of necessary foundation repair usually within a day and at a fraction of the cost most other companies charge. Using the proven quality materials, we even offer a lifetime installation warranty.
WHEN DOES YOUR HOME NEED A FOUNDATION CHECKUP?
If you've noticed any of the following signs of foundation issues in your home, you need our help – and fast!




WHY CHOOSE US?
Maybe you've been thinking about selling your home and need to pass an inspection, or maybe you just want to ensure the safety and longevity of your home through the years – regardless the reason, we're the right choice when it comes to your home's foundation. Here's why:
Easy – Forget your stress and go about your day while we handle your raised foundation repair for you
Effective – We stop the deterioration of your home's foundation and put it back together to help it stand for years to come
Efficient – We can finish our work in a day as opposed to other services that can take months
Economical – We can complete the process for a fraction of the cost that most other companies ask for
Earthquake Resistant – The materials we use are designed and engineered to resist an Earthquake.
Check it out! – Schedule a FREE foundation checkup today! Don't be an Ouch house!
SAN DIEGO AREAS WE SERVICE
We service all of the San Diego County areas from Oceanside to Julian and Alpine to the South Bay; including South Park, North Park, Kensington, Normal Heights, Bankers Hill, Golden Hill, Mission Hills, Point Loma, East County, La Mesa, South Bay, Chula Vista, North County and the beach communities.
Raised Foundation Repair is a marketing Company not, a licensed contractor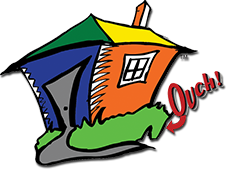 READY TO SCHEDULE A CHECKUP?
If you're unsure about if your home needs a foundation check up, great news: our checkup inspection is completely FREE. One of our professionals will come out to check out your foundation and look for telltale signs.
There's no risk in getting an expert's opinion; it's simply a way to get informed. After your checkup, we can discuss recommendations and any suggested next steps.